Posted on

May 22nd, 2007
by
Photizo
The last blog was the greatest response since I've been
blogging here at Zaadz with 2160 hits
in just four days. I wanted to thank Rod, Peter, Cait and Jenni for helping push
the wheel of a universal truth that Now is the only time there ever is or will ever BE.


"Nothing exists except the Here and Now."
In my daily work l manage a group of people and have named the team,
"Team Tao"
. With the symbol of the Tao representing our team as a logo and on meeting agendas I am often asked ...."why?..... And what does that symbol mean?"
I use this universal principal to make the point that there is a "Middle Way" in the ever continuous change or flow of all things.
The essential message of Taoism is...
that life constitutes an organic, interconnected
whole which undergoes constant transformation.



The Tao
Look, it cannot be seen - it is beyond form. Listen, it cannot be heard - it is beyond sound. Grasp, it cannot be held - it is intangible. These three are indefinable, they are one. From above it is not bright; From below it is not dark: Unbroken thread beyond description. It returns to nothingness. Form of the formless, Image of the imageless, It is called indefinable and beyond imagination. Stand before it - there is no beginning. Follow it and there is no end. Stay with the Tao, Move with the present.
Knowing the ancient beginning is the essence of Tao.



One of the key principles in understanding the Tao is to have an understanding of Wu-Wei or what we might call natural action or non-doing. Over the years I have become more and more impressed with the philosophical writings of Bruce Lee. On Wu-wei as a natural action he says,
"The basic idea of the Tao Te Ching is NATURALISM in the
sense of wu-wei (inaction), which really means taking no unnatural action.
It means spontaneity; that is. "to support all things in their natural stage" and
thus allow them to "transform spontaneously." In this manner Tao "Undertakes
no activity and yet there is nothing left undone."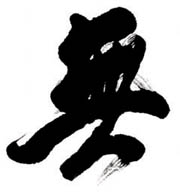 "Wu-Wei"
Go With The Flow


"Empty your mind.
Be formless, shapeless, like water.
You put water into a cup, it becomes the cup.
You put water into a bottle, it becomes the bottle.
You put it into a teapot, it becomes the teapot.
Now water can flow or it can crash.


Follow the flow of nature, without trying. Rather than constantly
trying to fight situations and control them, which is unnatural and
self-defeating, it is better to understand the true nature of the Tao,
behaving completely naturally and in tune with the natural order of things.



FLOW
The seeker is the found, the found is the seeker
as soon as it is perceived that there is no time.
Wei Wu Wei
It is what it is, and nothing extra need be added for all is as it should be if left to its natural state.
It is our ego and sense of wanting to control and manipulate things for our own benefit and desires that
leads to suffering. This conflict or suffering is an ever present
state of mind when we desire permanence in a universe of motion, or
impermanence. It is this unceasing flow that is the natural order of
all things. By understating the unalterable law of change, we can
cooperate with the natural order to increase our awareness for personal
transformation. The idea here is to "Go with the Flow."

The unpleasantness we experience when in difficulty
is more often than not caused by our own reactions.



Buddha
Buddha taught this Middle Way when he referred to it as a path that avoided extremes
in sensory self-indulgence or it's opposite of self-mortification.
The Middle Way is summed up in the fourth noble truth - the Noble Eightfold Path -
Right Understanding, Right Thought, Right Speech, Right Action,
Right Livelihood, Right Effort, Right Mindfulness and Right Concentration.
This is the Buddha's practical and realistic guide to avoiding the two
extremes and treading The Middle Way.
The Four Noble Truths
1. Life means suffering.
2. The origin of suffering is attachment.
3. The cessation of suffering is attainable.
4. The path to the cessation of suffering.




1. Life means suffering.
To live means to suffer, because the human nature is not perfect and neither is the world we live in.
During our lifetime, we inevitably have to endure physical suffering such as pain, sickness, injury,
tiredness, old age, and eventually death; and we have to endure psychological suffering like sadness,
fear, frustration, disappointment, and depression. Although there are different degrees of
suffering and there are also positive experiences in life that we
perceive as the opposite of suffering, such as ease, comfort and
happiness, life in its totality is imperfect and incomplete, because
our world is subject to impermanence. This means we are never able to
keep permanently what we strive for, and just as happy moments pass by,
we ourselves and our loved ones will pass away one day, too.
2. The origin of suffering is attachment.
The origin of suffering is attachment to transient things and the ignorance thereof. Transient things do not only include the physical objects that
surround us, but also ideas, and -in a greater sense- all objects of
our perception. Ignorance is the lack of understanding of how our mind
is attached to impermanent things. The reasons for suffering are
desire, passion, ardour, pursue of wealth and prestige, striving for
fame and popularity, or in short: craving and clinging. Because the
objects of our attachment are transient, their loss is inevitable, thus
suffering will necessarily follow. Objects of attachment also include
the idea of a "self" which is a delusion, because there is no abiding
self. What we call "self" is just an imagined entity, and we are merely
a part of the ceaseless becoming of the universe.

3. The cessation of suffering is attainable.
The cessation of suffering can be attained through nirodha. Nirodha means the unmaking of sensual craving and conceptual attachment. The third
noble truth expresses the idea that suffering can be ended by attaining
dispassion. Nirodha extinguishes all forms of clinging and attachment.
This means that suffering can be overcome through human activity,
simply by removing the cause of suffering. Attaining and perfecting
dispassion is a process of many levels that ultimately results in the
state of Nirvana. Nirvana means freedom from all worries, troubles,
complexes, fabrications and ideas. Nirvana is not comprehensible for
those who have not attained it.

4. The path to the cessation of suffering.
There is a path to the end of suffering - a gradual path of self-improvement, which is described more detailed in the Eightfold Path. It is the
middle way between the two extremes of excessive self-indulgence
(hedonism) and excessive self-mortification (asceticism); and it leads
to the end of the cycle of rebirth. The latter quality discerns it from
other paths which are merely "wandering on the wheel of becoming",
because these do not have a final object. Craving, ignorance,
delusions, and its effects will disappear gradually, as progress is
made on the path.
"Whatever is material shape, past, future, present,
subjective or objective, gross or subtle, mean or
excellent, whether it is far or near — all material
shape should be seen by perfect intuitive wisdom
as it really is: "This is not mine, this I am not, this
is not my self." Whatever is feeling, whatever is
perception, whatever are habitual tendencies,
whatever is consciousness, past, future, present,
subjective or objective, gross or subtle, mean or
excellent, whether it is far or near — all should
be seen by perfect intuitive wisdom as it really is
"This is not mine, this I am not, this is not my self."
Buddha Gautama (born 563 B.C.)
DEO
Access: Public
16 Comments
Print
I endorse this!
Flag for review
views (3,051)